CHARTLESS RUDDERLESS NIGHT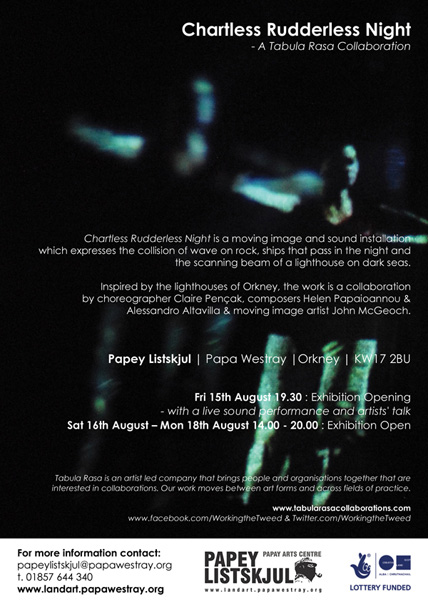 15-18.08.2O14

Chartless Rudderless Night - A Tabula Rasa Collaboration

Really loved this piece. So imaginative and very clever. Simply wonderful Audience comment

Chartless Rudderless Night is a moving image and sound installation inspired by the lighthouses of Orkney.

The work is a collaboration between choreographer Claire Pençak, composers Helen Papaioannou and Alessandro Altavista, dancers Merav Israel and Will Thorburn and moving image artist John McGeoch.

We are really delighted to be able to bring this work to Papa Westray as it doesn't have a lighthouse!

Chartless Rudderless Night expresses the collision of wave on rock, ships that pass in the night, the scanning beam of a lighthouse on dark seas and the smallness of us all in the face of the elements.

The composers drew on the mapping, individual light characteristics and rhythm of the 11 lighthouses of Orkney when composing the work for saxophone and double bass. The sound work brings a deeply atmospheric sonic environment to the dance film.

A sense of dissolving and binding as the dancers appeared and disappeared .…very alchemical. Audience comment

The work was first shown at the Alchemy Film and Moving Image Festival in the Scottish Borders and will be installed in the Museum of Scottish Lighthouses from October 11th to November 9th 2014.

Tabula Rasa is an artist- led organisation, directed by choreographer Claire Pençak. It brings together people and organisations interested in collaboration to create projects that moves between art forms and across fields of practice.

www.tabularasacollaborations.com



ARTIST BIOGRAPHIES

Alessandor Altavilla is a sound artist and creative practitioner. He is currently a research student in Arts and Computational technology at Goldsmiths, University of London . His research is manly focused on embodied sonic and musical interactions mediated by digital technology and locative performances

Merav Israel grew up in Israel and has trained in contemporary dance, improvisation and somatic movement methods since 1991 nationally and internationally. Merav has created improvisational, choreographed and site specific work in Israel and across Scotland. She is artistic director of La Nua – Movement and Improvisation.

John McGeoch is Artistic Director of Arts in Motion based in the Highlands of Scotland. Current work spans from video sets for theatre, installations, animated films, VJ and live projections and mapped building projections. Work includes video sets for St. Kilda Opera ( Gaelic Arts ) , Marat Sade ( Theatre Workshop), The Sundowe ( Cameron Mackintosh / Eden Court ) and Callum`s Road (Communicado / National Theatre of Scotland)

Helen Papaioannou is a composer and saxophonist whose work focuses on incessantly transforming flows of motion with a tendency towards arresting, hyperactive rhythmic action, placing physicality at the heart of the music. Helen's music investigates relationships between rhythm and action in performance, in which she works as improviser and composer in various combinations.

Claire Pençak is a choreographer and the artistic director of Tabula Rasa. In recent years she has been a Leverhulme Trust Artist in Residence at the Centre for Rural Economy, Newcastle University and a lead artist for Working the Tweed a Year of Natural Scotland 2013 project. She is currently working with environmental artist Kate Foster on Stone Lives – a Speculative Ground project with Social Anthropologists from the University of Aberdeen and is developing new work through a Creative Scotland Artist Bursary.

Will Thorburn trained in contemporary dance at The Laban Centre and in capoeira. He was a member of Union Dance from 2000 – 2008 and since then has been working as a freelance dancer, teacher and choreographer.