ABOUT: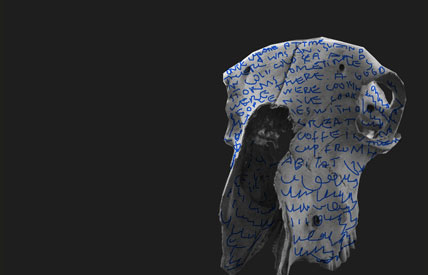 PAPEY LISTSKJUL* / Papay Arts Centre / -
A REVOLUTIONARY ARTS & HERITAGE HUB OF THE NORTH ATLANTIC (formerly known as Land Art Papa Westray) is an artists' run, not-for-profit, independent, experimental, place-specific, transmedia art project

PAPEY LISTSKJUL is an art exhibitions and music venue, the base for art residencies and the home of PAPAY GYRO NIGHTS ART FESTIVAL on the island Papa Westray (Papay) in Orkney

Since 2007 PAPEY LISTSKJUL / PAPAY GYRO NIGHTS hosted over 40 art residencies in Papa Westray creating the most complete study and documentation of the island through film, music, sound art, architecture, visual art, performance and writing

Papa Westray (Papay) is an island 4 by 1 mile, population about 60-100** and 7000 years history of continious human inhabitation.

The island is sinking and "In a few short ages the lobster and crab will crawl on our cold hearthstones; whales and fishes will disport above where our chimney tops now reach; seaweeds and limpets will grow on our gravestones, and our graves will be nowhere. "***

PAPEY LISTSKJUL is an utopia which eventually evolved into construction of a boat to escape the sinking island. The years are passing by and we're absorbed into the boat building

PAPEY LISTSKJUL has no fixed venue on the island and staging it's events and setting up artists studios at various found locations




* PAPEY LISTSKJUL can be translated from Orkney Norn / Old Norse as "Papay Arts Centre". LIST - Art. SKJUL - hall, meeting or hiding place

** exact population of Papa Westray is unknown. in 2007 we had about 60. In 2015 - about 110 and continues to grow

*** Denisson. 1893 address to the Orkney Natural History Society
OUR PROJECTS :


PAPAY GYRO NIGHTS ART FESTIVAL
/ video art, sound art, experimental film, music and architecture /
- each February in Orkney (since 20011) + each spring in Hong Kong (since 2012) + through the year worldwide touring and exchange programme
www.papaygyronights.papawestray.org


BONFIRE
The First Open International Architectural Competition BONFIRE: results and projects realisation. The Competition created foundation for Experimental Architecture Workshop
www.bonfire.papawestray.org


NYNORN
ORKNEY NORN REVIVAL PROJECT is supporting research in Orkney Norn and use of Orkney Dialect
www.nynorn.papawestray.org


L.A.P.W. PUBLISHING:
annual boogazine SNÆ, books and music
www.papaygyronights.papawestray.org


PICNIC: BERLIN - PAPA WESTRAY - HONG KONG
collaborative Place - Specific Research and Work Production Event which is taking place at selected sites in Berlin, Papa Westray (or other locations above 59° North) and in Hong Kong
www.picnic.ubahob.com

CIRCLE
the Project started in May 2008 is a series of ongoing site-specific painting, video and music collaborations between IVANOV + CHAN and composer JAMES HESFORD, in a timeframe of 24 HOURS NON-STOP WORKING PROCESS...Works were created at various sites in Hong Kong, Italy, Berlin, London and Orkney.
www.circle.ubahob.com