GENETIC MOO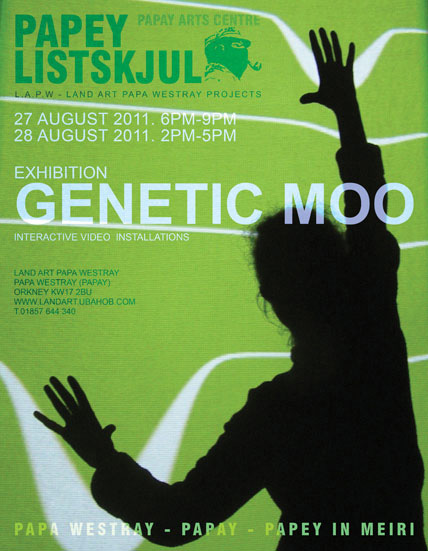 GENETIC MOO
interactive video installations

EXHIBITION @ PAPEY LISTSKJUL (Papay Arts Centre)

Saturday 27 AUGUST. 6-9pm
Sunday 28 AUGUST. 2-5pm


Genetic Moo, participants of Papay Gyro Nights 2011 Art Festival, is coming back to Papay and will create an interactive artpiece in response to the locations of the island.

Genetic Moo build living installations in pixels and light. They have been making interactive video installations since 2008 and thousands of people have interacted with their artworks, most recently at this year's Glastonbury.

In darkened spaces they project beguiling and unsettling creatures, combining elements of the human and the animal. These phantasmagoria respond in a variety of life-like ways to audience motion, sound and touch. The works are driven using hand written software and a range of sensing devices and can be adapted to different scales and locations. People have been repelled and delighted by the grotesque creations of Genetic Moo, often at the same time. Their magical animations pose questions about the illusion of life. Where do their creatures come from, what are they, where are they going?

Genetic Moo have shown extensively and are resident artists for Exploding Cinema. They were recently accepted into the prestigious London Group - their first interactive artists.

GENETIC MOO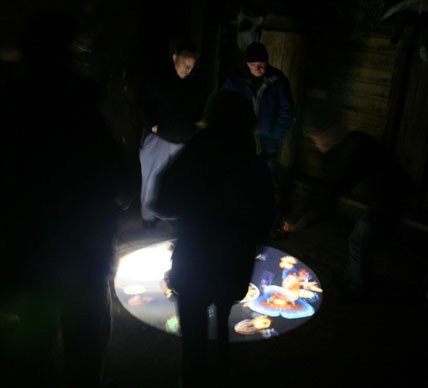 PAPEY LISTSKJUL is proud to present GENETIC MOO first solo exhibition - two interactive video installations: ANIMACULES and GROWTH LINES.

GENETIC MOO traveled to Papay to install and to present works, and also to start thier art residency on the island - researching marine life and local folklore.

for more information visit GENETIC MOO blog:
geneticmoo.wordpress.com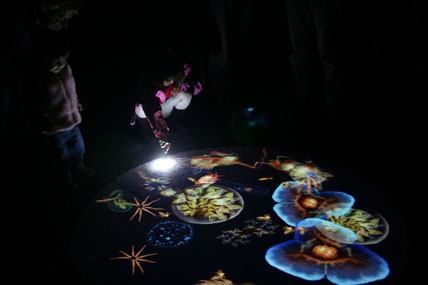 ANIMACULES
At first, as they wriggle around in their unique way, the Animacules are visually enticing, but as people look closer more provocative imagery is revealed. They are primarily made up of close ups of our own intimate body parts, collaged into bizarre new shapes. Some resemble insects, bacteria or deep sea life, while others are purely imaginary. They swarm together either attracted to or repelled by light depending on the set up.

The animacules were inspired by the work of 16th century Dutch scientist Antonie van Leeuwenhoek who invented one of the earliest microscopes and was the first to describe the living 'molecules' he saw.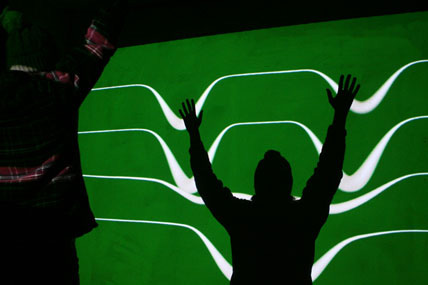 GROWTH LINES
The audience is presented with a horizontal line. As they move in front of it, the line pregnantly bulges. Because the audience could see that their shadow was affecting the line instantly the interaction was very engaging. People spent a long time playing with the undulations and watching others play.