CIRCOLO LA ROCCA. CITERNA. ITALY 2010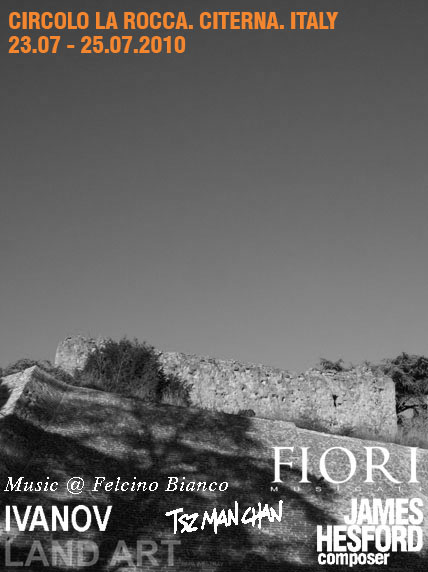 Masterclass of Music Citerna 2010
CIRCOLO LA ROCCA
CHORAL WORKS AND CROSS-MEDIA INSTALLATION BY IVANOV, TSZ MAN CHAN, JAMES HESFORD AND FIORI MUSICALI @ LA ROCCA. CITERNA. UMBRIA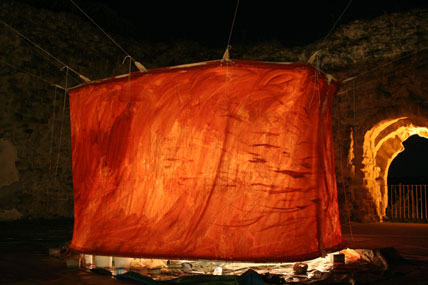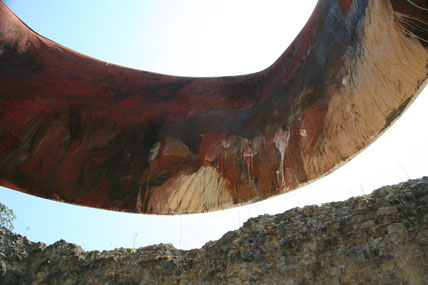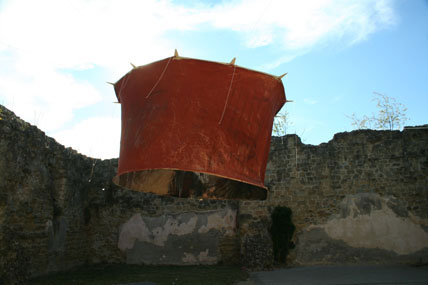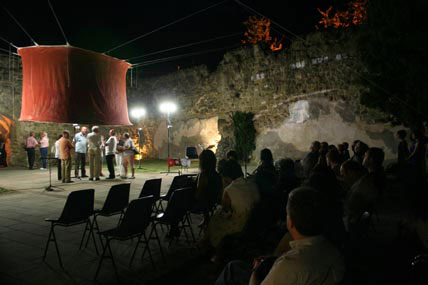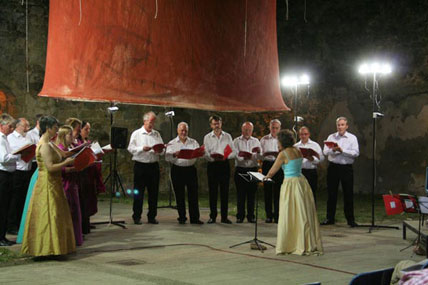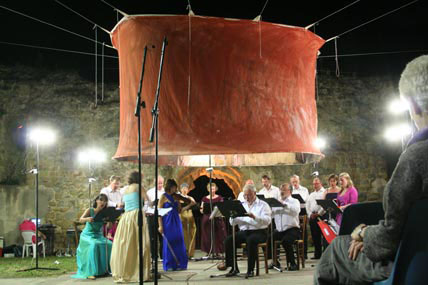 During a 24 hour, non-stop working process at La Rocca, Citerna, artists Ivanov and Chan together with award-winning British composer James Hesford created painting, video and musical composition event as part of the Festival. Previous events of this type have been created in an abandoned railway roundhouse in Berlin, a floating hut on the river Thames, at the Horse Hospital – home of London's avant-garde, on an uninhabited island at the most northerly tip of the Orkney islands. A 2.5 x 12 metre circular canvas became the centrepiece of the presentation at La Rocca supported by video and sound installations.

The painting which is visible during its creation was opened to the public by a concert performed by Fiori Musicali, the UK's leading early music choir, who sang Gabrieli's composition "Battaglia" and "Svyati" by Taverner.

Fiori Musicali concluded with the world premier of James Hesford's "Papay Holm Circle" for a choir of twelve voices placed in a 30-metre circle around the canvas and surrounding violin virtuoso Elvira Bekova. This was an historic event of great magnitude as the text of "Papay Holm Circle" has been translated into Nynorn, a reconstruction of the Orkney Norn language which has not been spoken for more that two hundred years.

The project was generously supported by the Comune of Citerna and by Mayor of Citerna Juliana Falaschi and her colleagues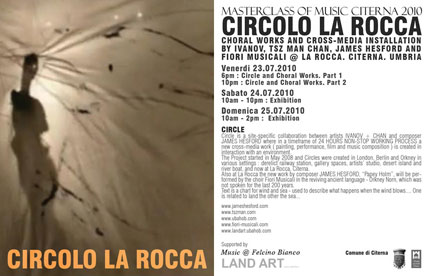 Venerdi 23.07.2010
9pm : Circle and Choral Works.
Sabato 24.07.2010
10am - 10pm : Exhibition
Domenica 25.07.2010
10am - 2pm : Exhibition

CIRCLE
Circle is a site-specific collaboration between artists IVANOV + CHAN and composer JAMES HESFORD where in a timeframe of 24 HOURS NON-STOP WORKING PROCESS a new cross-media work ( painting, performance, film and music composition ) is created in interaction with an environment.

The Project started in May 2008 and Circles were created in London, Berlin and Orkney in various settings : derelict railway station, gallery spaces, artists' studio, desert island and river boat, and now at La Rocca, Citerna.

Also at La Rocca the new work by composer JAMES HESFORD, "Papey Holm", will be performed by the choir Fiori Musicali in the reviving ancient language - Orkney Norn, which was not spoken for the last 200 years.

Text is a chart for wind and sea - used to describe what happens when the wind blows.... One is related to land the other the sea...

LINKS :
MUSIC @ FELCINO BIANCO
IVANOV
TSZ MAN CHAN
JAMES HESFORD
FIORI MUSICALI
COMUNE DI CITERNA
NYNORN

CITERNA
| | | |
| --- | --- | --- |
| sponsored by: | | |