NOVEMBER 2008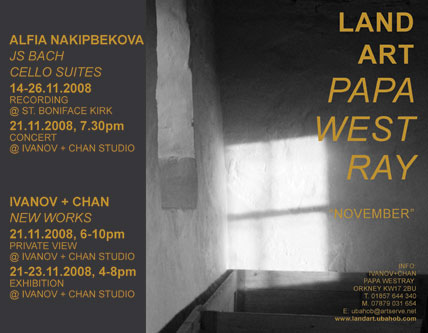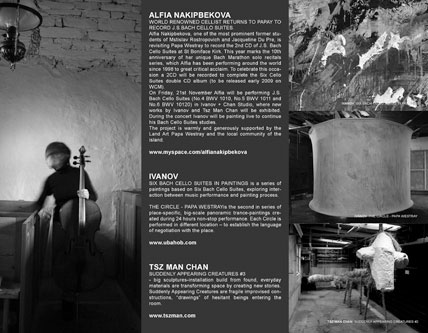 WORLD RENOWNED CELLIST RETURNS TO PAPAY TO RECORD J.S.BACH CELLO SUITES.
Alfia Nakipbekova, one of the most prominent former students of Mstislav Rostropovich and Jacqueline Du Pre, is revisiting Papa Westray to record the 2nd CD of J.S. Bach Cello Suites at St Boniface Kirk. This year marks the 10th anniversary of her unique Bach Marathon solo recitals series, which Alfia has been performing around the world since 1998 to great critical acclaim. To celebrate this occasion a 2CD will be recorded to complete the Six Cello Suites double CD album (to be released early 2009 on WCM).

On Friday, 21st November Alfia will be performing J.S. Bach Cello Suites (No.4 BWV 1010, No.5 BWV 1011 and No.6 BWV 10120) in Ivanov + Chan Studio, where new works by Ivanov and Tsz Man Chan will be exhibited. During the concert Ivanov will be painting live to continue
his Bach Cello Suites studies.

The project is warmly and generously supported by the Land Art Papa Westray and the local community of the island.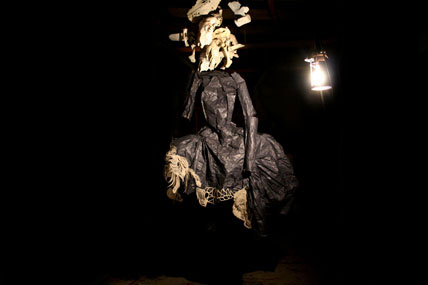 Tsz Man Chan's installation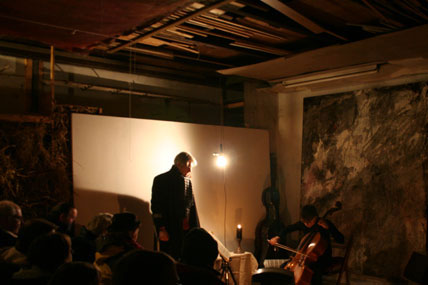 Alfia Nakipbekova is performing Bach Cello Suites at Ivanov + Chan Studio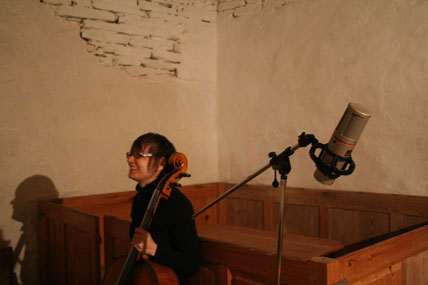 Bach Cello Suites recording at St. Boniface Kirk
ALFIA NAKIPBEKOVA : JS BACH CELLO SUITES
Fr 21st November, 7.30pm
CONCERT @ IVANOV + CHAN Studio
IVANOV + CHAN : NEW WORKS
Fr 21st November, 6pm-10pm - PRIVATE VIEW
Fr 21st – Su 23rd November, 4pm-8pm - EXHIBITION
IVANOV : SIX BACH CELLO SUITES IN PAINTINGS is a series of paintings based on Six Bach Cello Suites, exploring interaction between music performance and painting process.
THE CIRCLE - PAPA WESTRAYis the second in series of place-specific, big-scale panoramic trance-paintings created during 24 hours non-stop performance. Each Circle is performed in different location – to establish the language of negotiation with the place.
for more information please visit
www.ubahob.com

TSZ MAN CHAN : SUDDENLY APPEARING CREATURES #3 - big sculptures-installation build from found, everyday materials are transforming space by creating new stories. Suddenly Appearing Creatures are fragile improvised constructions, "drawings" of hesitant beings entering the room.
for more information please visit
www.tszman.com