CELLORHYTHMICS IN PAPAY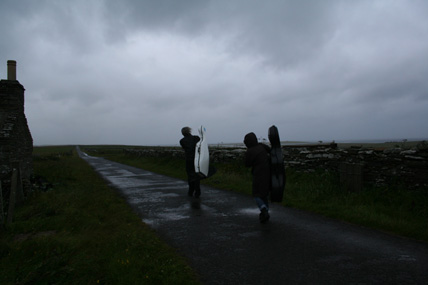 We just finished the first series of events which are establishing LAND ART (papa westray) as a new international art formation. It was more like a house warming party which included our, IVANOV + CHAN, Open Studio 2007, Bach Marathon by virtuoso cellist Alfia Nakipbekova in wonderful setting of St. Boniface Kirk and performance of Cellorhythmics which was accompanied by Chiara Ambrosio's short films and extended into the late-night traditional music jam.

We'd like to say thank you to all people of Papa Westray for the great help and support.

The first art commission by LAND ART (papa westray) is a composition based on traditional Orkney music written by James Hesford this time wasn't performed but in the process of recording and will be presented later this year

Now we are developing a programme for 2008 which will include artist's residencies, commissions, exhibitions and other projects.
CELLO AND ART FEST ON PAPA WESTRAY
Cellorhythmics – composer/jazz musician James Hesford and a Kazakh born virtuoso cellist Alfia Nakipbekova came to Papa Westray on the 10th August to play two concerts.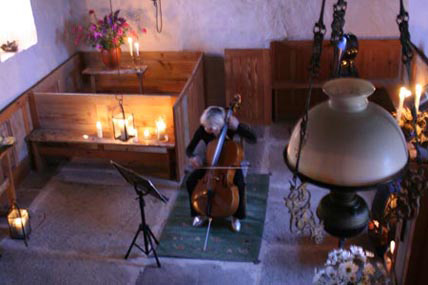 Alfia Nakipbekova, former student of Rostropovich, performed all 6 J.S.Bach Suites at the St Boniface Kirk as a part of her Bach Marathon series which she has played in Melbourne, Italy, Belgium, London, Oxford, and Aldeburgh with great critical acclaim.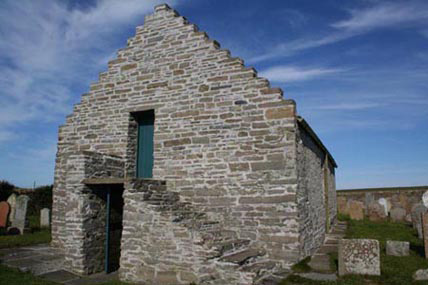 The beautifully restored Kirk provided an unusual intimate setting for Alfia's sold out solo cello performance which was attended by local people and visitors who had made the journey from neighbouring islands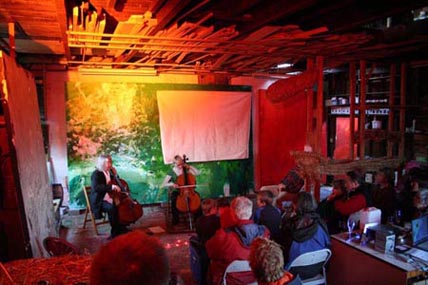 James Hesford and Alfia Nakipbekova, founder members of the cutting edge, London based cello ensemble Cellorhythmics, played a concert in the studio of artists Ivanov and Tsz Man Chan. They performed original music by James, influenced by Jazz, Blues and World Music.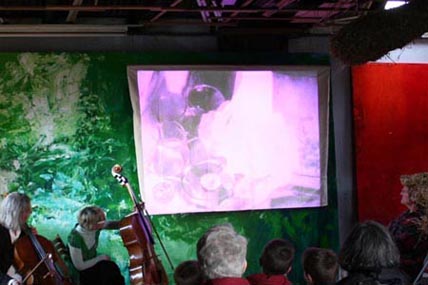 Shrt Films by Chiara Ambrosio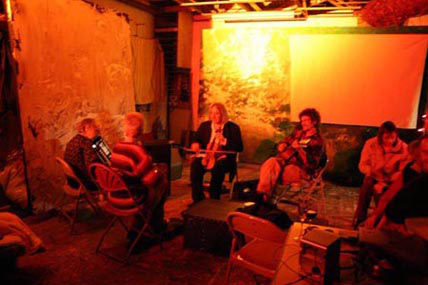 The concert was followed by a traditional music session led by accordionist Margaret Rendall who was joined by James and island musicians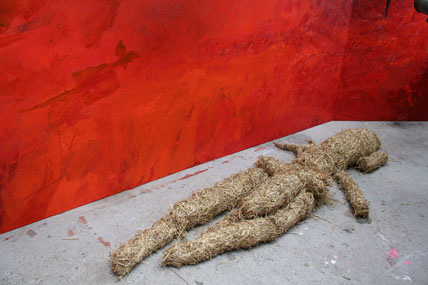 Tsz Man's 3D drawing and fragment of Ivanov's red painting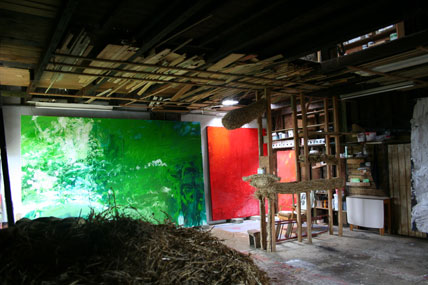 exhibitio view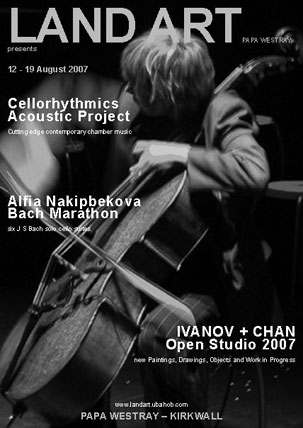 Cellorhythmics Acoustic Project - www.myspace.com/cellorhythmics
music by James Hesford and short films by Chiara Ambrosio
Wednesday 15 August 2007, 8pm - IVANOV+CHAN Studio. Papa Westray
Friday 17 August 2007, 8pm - King Street Halls. Kirkwall
Alfia Nakipbekova: Bach Marathon - www.myspace.com/alfianakipbekova
six J S Bach solo cello suites
Sunday 12 August 2007. 7.30pm at St. Boniface Kirk, Papa Westray
Friday 17 August 2007. 5.30pm at King Street Halls, Kirkwall
IVANOV + CHAN Open Studio 2007 - www.ubahob.com
Paintings, Drawings and Objects by Papa Westray based artists Ivanov and Tsz Man Chan
Private view: Wednesday 15 August 2007. 6pm - 8pm
Exhibition: Saturday 18 August and Sunday 19 August 2007. 2pm - 6pm.
IVANOV + CHAN Studio, Tredwall, Papa Westray, Orkney